How to Use Cloth Nappies
It is estimated that one child from newborn to toddler that wears disposable nappies alone, will have around 6000 nappy changes!! Based on this estimate it could cost anywhere between $4000-$6000 per child. That's not just a hit to your wallet; it's a toll on our planet too.
But here's the good news: Even one cloth nappy can make a world of difference. Using a single cloth nappy can save approximately 365 disposable nappies from ending up in a landfill each year. Whether you choose to go full cloth or just occasionally, every cloth nappy you use is a step toward a more sustainable future for your family and our Earth. It's not just a change; it's a change for the better.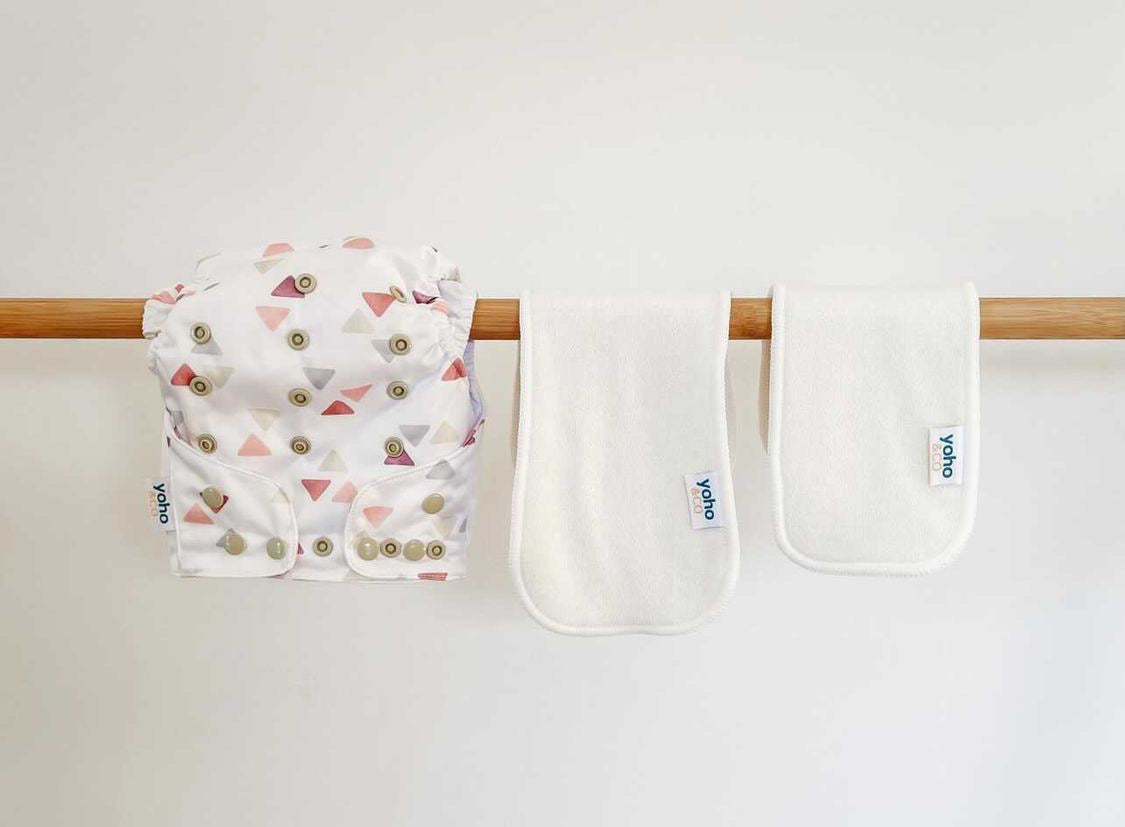 Where do I start?
The important thing is to take it step by step so you don't get overwhelmed and put cloth nappies in the too hard basket! And don't feel pressured! Remember, if you are using just one cloth nappy a day, you are saving 365 disposables from going into the land fill every year! If you are planning on only using cloth nappies part time, you'll need around 8-10 nappies. If you are going full time and don't want to be washing every day, we recommend 22-26 nappies depending on how often you will be washing! This way you will always have clean nappies on hand and can avoid using a dryer. But this can vary depending on how many kids you are using them on, how often your baby/toddler needs changing and how often you will wash them. At the end of the day, it's up to you!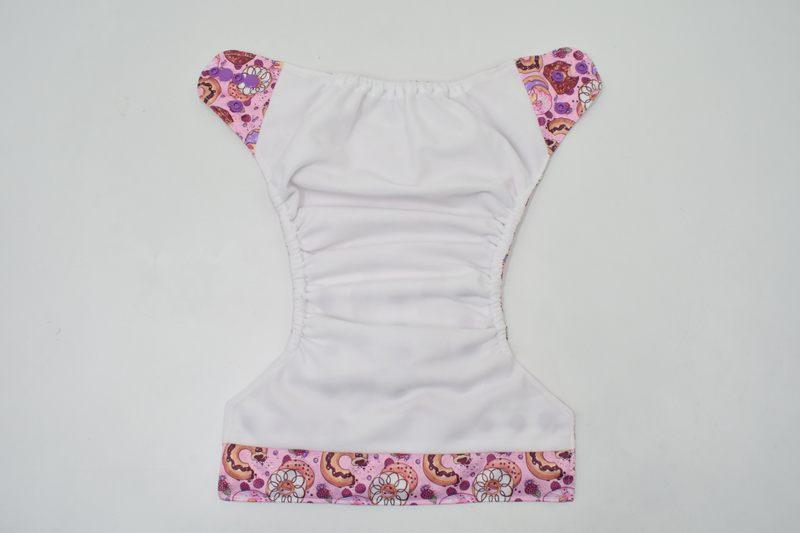 How do I know my baby will fit these?
Our nappies are OSFM (One Size Fits Most) which means they are likely to fit from newborn to toddler! We say around 4kgs right up to around 15kgs. With adjustable domes, they grow with your baby!
When your little one is ready for toilet training you can move them onto our reusable training cloth nappies!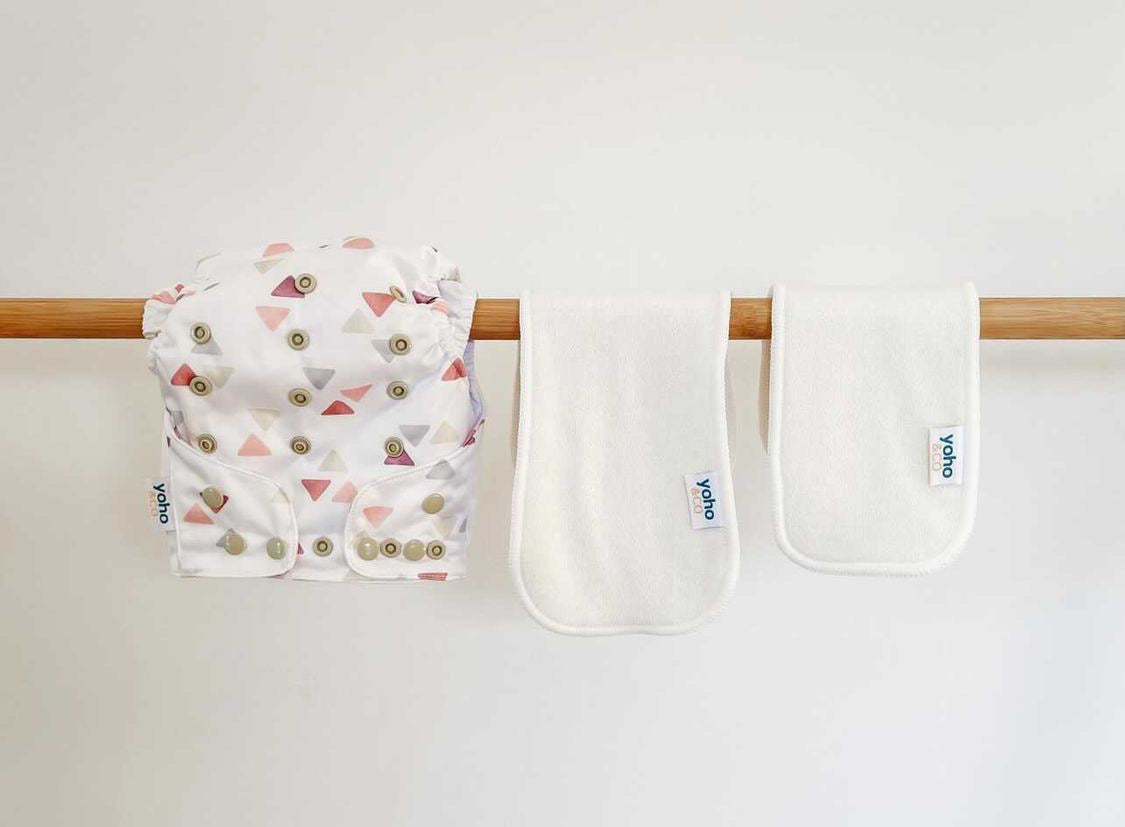 Reusable Boosters, Inserts & Liners
These go right inside your cloth nappy, acting like a super-absorbent sidekick. Made from materials designed to soak up moisture, these liners give you that extra layer of protection against leaks.
The nappies have a pocket at the back where you simply pop in the insert or booster. Just place it in the nappy, and you're good to go. It's washable, and reusable.
We have soft bamboo terry, bamboo cotton, and hemp cloth nappy inserts to can keep your baby healthy and dry. Use a singular nappy insert for awesome absorbance or use LUXE cloth nappy inserts for extra absorbency. 
You can also get our Bamboo liners which sit on top of the nappy between the baby's skin and the nappy which you can just throw away after use.
View Liners and Inserts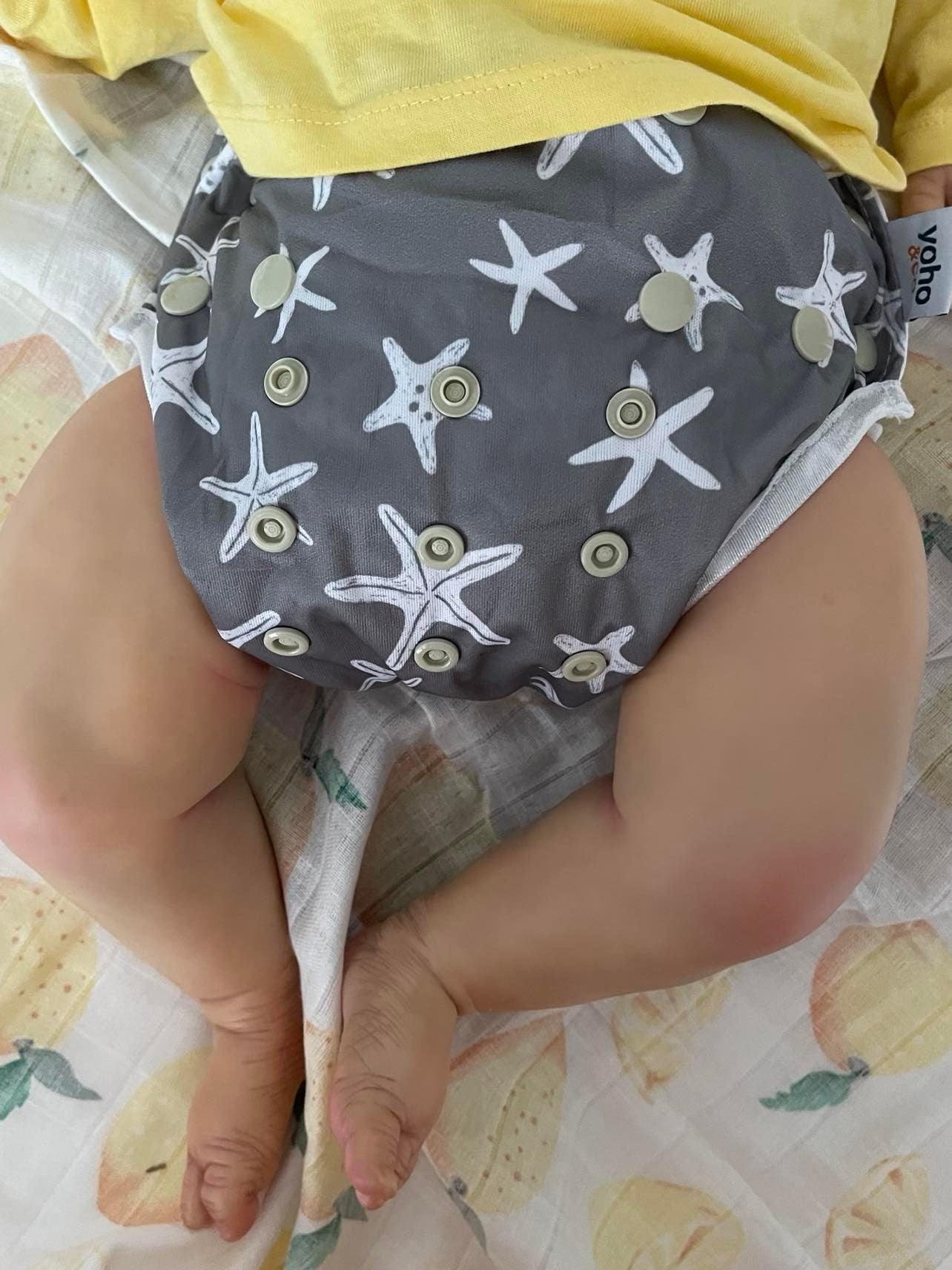 Our Liner Choices:
Soft Bamboo Terry 
Soft to the touch and absorbent, soft bamboo terry nappy inserts are mum and baby-approved! Sturdy enough to withstand multiple washes, soft bamboo terry is a favorite of all parents. 
Bamboo Cotton
Made from bamboo fiber, bamboo cotton is highly absorbent and wicks away moisture from the skin much faster than other fibers. Bamboo cotton is naturally breathable and feels lightweight and silky. 
Hemp Cloth
Hemp is a sustainable textile made from the hemp plant. Hemp is used to making ropes, clothing, and other household items. Like bamboo, hemp cloth is highly breathable and has high water-wicking abilities. Hemp cloth nappy inserts do not hold heat so your baby stays cool and dryer longer. 
Shop Liners
What about when I am out?
Check out our wet bags! All waterproof PUL with a dry pocket to make it convenient to use cloth nappies when out and about exploring our beautiful planet! 
Wet Bags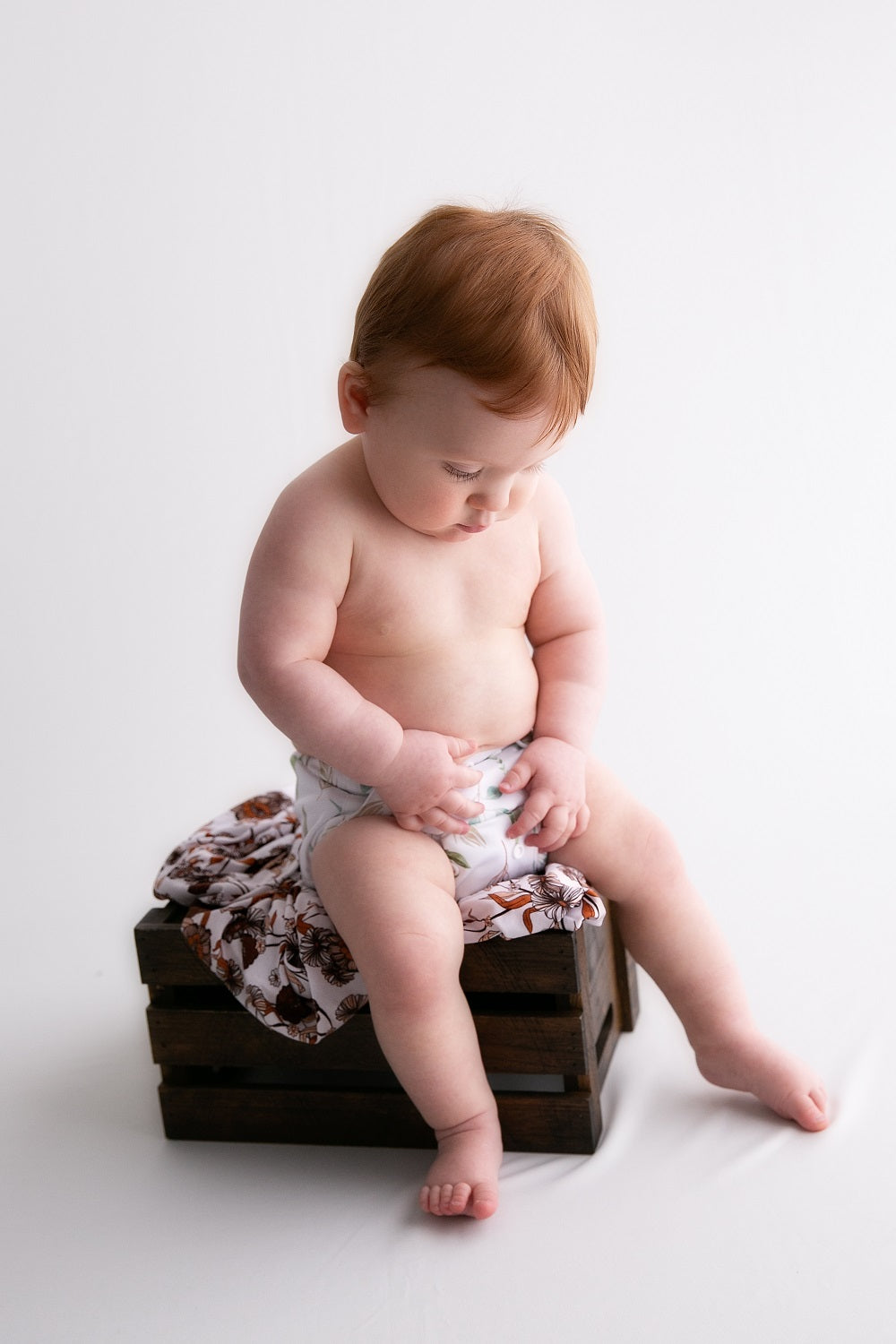 Using the Nappies
When you first get your nappies, give them a wash! This will remove any residue from the manufacturer and help those inserts with absorbency!
1. Once the nappy has been soiled, and your not planning a wash, scrape any solids off into the toilet, remove inserts and do a pre-wash. Store in a breathable basket (dry pail) - something with air flow! I promise you it won't smell! I use a silicone spatula, silicone scrubber and wire basket to complete this step! I do my pre-wash in the afternoon/evenings because his number two time usually happens in the morning!

2. After 2-3 days (I wouldn't tend to go any longer) put everything in a warm/hot wash (40-60°C) in washing machine. Do not use any fabric softeners!

3. Line dry in fabulous sunshine and fresh air!

Its as simple as that! Wear, wash, dry - repeat!
Shop Classic Nappies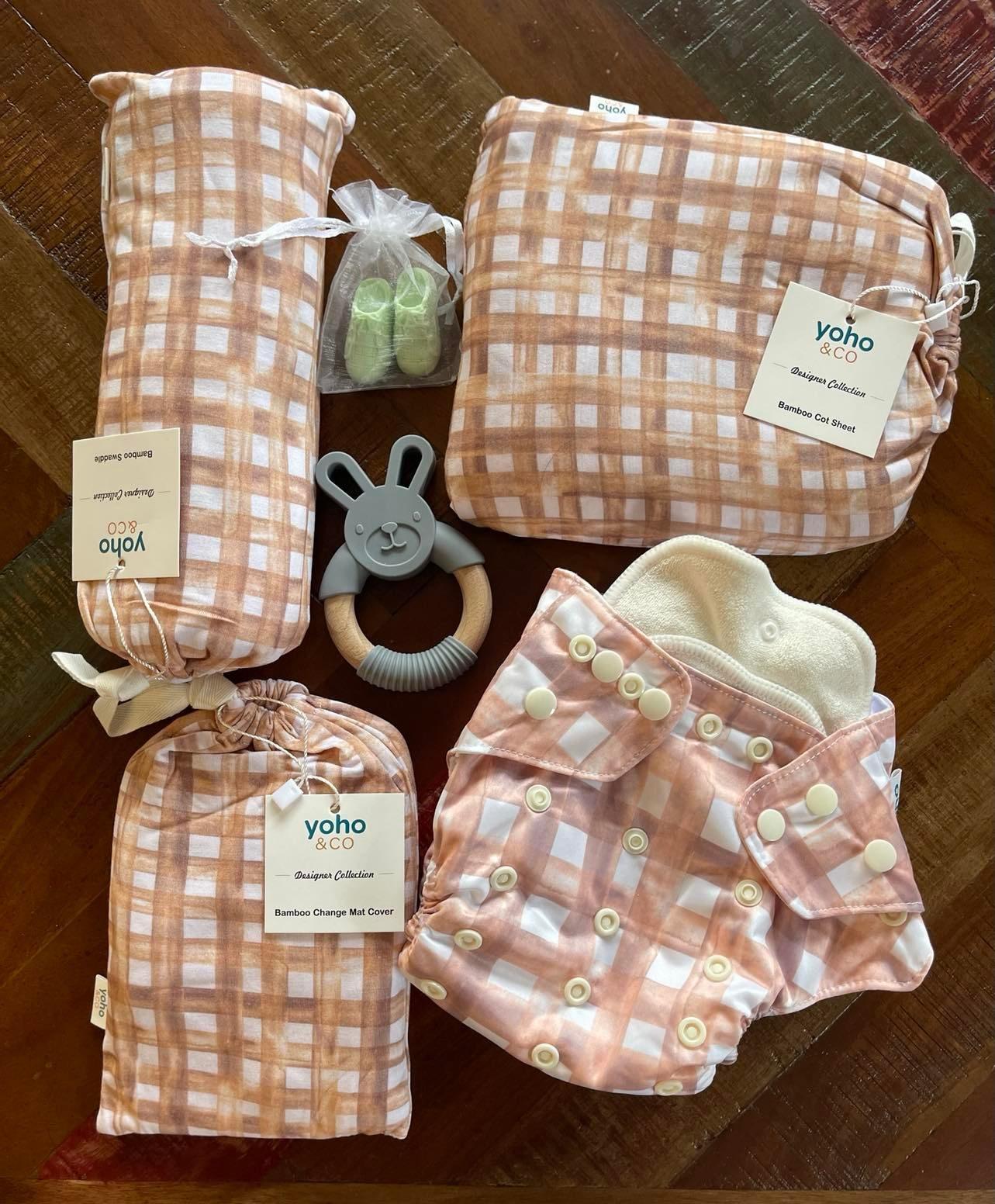 Extra Yoho tips from Monique who started Yoho & Co
Natural fiber such as bamboo inserts tend to work better than microfiber. The upside is that they hold the liquid really well! I use a combination of both on my boy, but do prefer bamboo! (I'm currently trialing hemp and bamboo cotton too!). In saying that, microfiber definitely has it's place.
The shell/pocket usually dries before the inserts (The downside is that natural fiber inserts hold liquid so well, where as the microfiber dry fast) 
 Always have more inserts than shell's so you are never caught out!  
Sunshine seriously does wonders for those pesky yellow new born poo stains! Only on the outer layers however, so you really want to make sure those inserts are fully clean as they are multi layered. However if you have a good washing routine, they shouldn't stain.
Try to avoid using the dryer - you can use it, but keep it to a minimum especially with the shells/pockets being made of PUL. 
Check out the Facebook group 'Clean Cloth Nappies' for information and advice on washing routines! 
Shop LUXE Nappies